Launch of novel prebiotic in Europe and Africa
26 September 2022
New product will be branded OptiXOS
OptiBiotix Health plc (AIM: OPTI), a life sciences business developing compounds to tackle obesity, cardiovascular disease and diabetes, announces it has signed an exclusive distribution agreement with Shandong Longlive Biotechnology Co Ltd ("Longlive") for the distribution of Longlive's unique xylooligosaccharide ("XOS") prebiotic into the human nutrition markets (foods & beverages and supplements) in Europe and Africa. The product will be branded OptiXOS.
Longlive is one of the global technology and market leader in the novel prebiotic XOS. The company has a core capability in corn and corncob processing into various food ingredients such as starch, polyols, sugar replacers, monosaccharides and prebiotic fibres.
XOS is a prebiotic fibre with unique characteristics and benefits compared to other prebiotic fibres commercially available in Europe. One gram of XOS is sufficient to have a marked effect on the growth of healthy favourable gut microbes such as bifidobacteria and lactobacilli. Its superior stability at high temperatures and low pH combined with the small effective dose give it wide applicability within food & beverage applications and extends its reach to supplement applications requiring pills, tablets and capsules. XOS is stable in the harsh environment of the gastrointestinal tract which maximises its effectiveness when it reaches the gut.
XOS also has a complementary effect on the growth and propagation of probiotics such as Lactobacillus plantarum and Lactobacillus rhmanosus (such as LGG). This creates the potential for probiotic companies to boost the health benefits of their existing products and create real differentiation in the market. This application has been researched by OptiBiotix as part of a joint development with DSM (announced 5 April 2016) and is covered by an extensive patent portfolio.
Longlive has been successful in obtaining key regulatory approvals for XOS in the North American market (FDA GRAS and New Dietary Ingredient, Health Canada) and in 2018 obtained EFSA Novel Food approval opening up the European market.
OptiXOS comes with an active a pipeline of customer projects passed on by Longlive and is commercially available to customers with immediate effect. The new logo for the product is displayed below.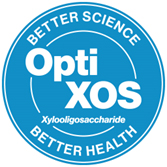 René Kamminga, CEO of OptiBiotix Limited, commented: "XOS is an important addition to OptiBiotix's technology portfolio. It is a building block that will increase our importance in microbiome modulation and act as leverage for our more advanced science based prebiotic solutions in the food & beverage and supplement industry in Europe & Africa. The agreement with Longlive is another step for Optibiotix on its path to in-license or acquire unique technologies to broaden its product portfolio and reinforce our role as leaders in the microbiome field. We look forward to working with the team at Longlive to make this link-up into a significant contributor to our mutual business growth ambitions."
This announcement contains information which, prior to its disclosure, was considered inside information for the purposes of the UK Market Abuse Regulation and the Directors of the Company are responsible for the release of this announcement.
For further information, please contact:
OptiBiotix Health plc
www.optibiotix.com
Stephen O'Hara, Chief Executive
Contact via Walbrook below
Cairn Financial Advisers LLP (NOMAD)
Tel: 020 7213 0880
Liam Murray / Jo Turner / Ludovico Lazzaretti
Cenkos Securities plc (Broker)
Tel: 020 7397 8900
Callum Davidson / Neil McDonald
Michael Johnson / Russell Kerr (Sales)
Walbrook PR Ltd
Mob: 07876 741 001
Anna Dunphy
Caution regarding forward looking statements
Certain statements in this announcement, are, or may be deemed to be, forward looking statements. Forward looking statements are identified by their use of terms and phrases such as ''believe'', ''could'', "should" ''envisage'', ''estimate'', ''intend'', ''may'', ''plan'', ''potentially'', "expect", ''will'' or the negative of those, variations or comparable expressions, including references to assumptions. These forward looking statements are not based on historical facts but rather on the Directors' current expectations and assumptions regarding the Company's future growth, results of operations, performance, future capital and other expenditures (including the amount, nature and sources of funding thereof), competitive advantages, business prospects and opportunities. Such forward looking statements reflect the Directors' current beliefs and assumptions and are based on information currently available to the Directors.